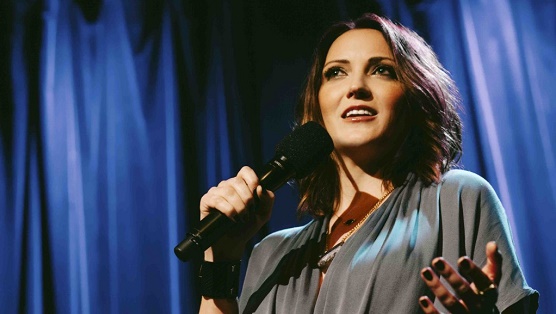 Women have long been criticized and labeled as "not funny" by the men of the comedy world. This claim is no longer credible nor is the validity of a female comedian up for debate any longer. Women often offer smarter and fresher takes on the standard humor that we are used to. Jen Kirkman is no newbie to the life of stand-up comedy for a woman. She has broken barriers and proven time and time again that women are truly hilarious.
Jen Kirkman is a stand-up comedian and a New York Times Bestselling Author.  Her first book, "I Can Barely Take Care of Myself (Tales of a Happy Life Without Kids)" hit shelves in April 2013 and was an instant bestseller.  Her follow-up book "I Know What I'm Doing & Other Lies I Tell Myself (Dispatches From a Life Under Construction) debuted on April 12th, 2016. Her weekly podcast, "I Seem Fun: The Diary of Jen Kirkman", is often in the top 100 in comedy on iTunes.  Jen tours the world as a stand-up but lives in Los Angeles.
Kirkman appears regularly on Comedy Central's @Midnight.  She's done stand-up on many late night shows including Conan, The Tonight Show with Jay Leno, John Oliver's New York Stand-Up Show, The Late Late Show With Craig Ferguson and more. She was also a long time writer and round table guest on Chelsea Lately.
In Kirkman's podcast, entitled "I Seem Fun: The Diary of Jen Kirkman," Kirkman hilariously discusses whatever is going on in her brain at the given time. Unlike most podcasts, Kirkman doesn't need anyone else to riff off for laughs. She does the podcast solo, simply spewing her "unfiltered thoughts" on everything from her personal life to the happenings in the world.
In the video below, Kirkman joins Jenni Konner of 92Y to discuss her Netflix Original Comedy Special, "I'm Gonna Die Alone (And I Feel Fine). The show is now streaming worldwide and was named one of the top ten stand-up specials of 2015 by The Atlantic and Time Out New York. The New York Times said, "Though delivered in an effortless conversational style, her comedy has the meticulous detail that can come only from repetition and experience."
View the full video here:

Jen Kirkman is going on tour later in 2017.
---
For more information on Jen Kirkman, please visit our website. Interested in booking Kirkman for you next event? Contact us!
For further related speakers on topics by influential women, check out our Top Female Speakers lists!